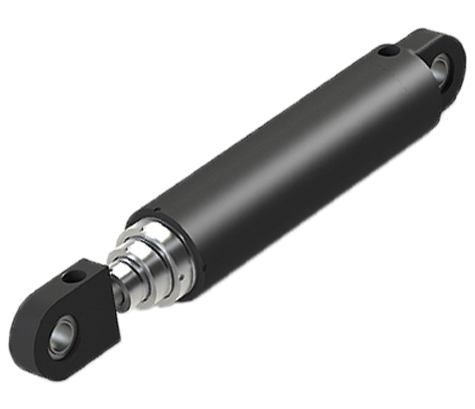 St52(1.0580)Telescopic Cylinders
We specialized in designing and applying custom hydraulic cylinders in client applications. We've worked with hundreds of customers and have thousands of successful designs behind us.
Whatever your cylinder needs may be, our experienced technical staff offers a wealth of design and application expertise. Our personnel listen to your requirements, and combine your needs with our capabilities and resources to provide the optimum solution for your specific equipment and machinery. Lead times for custom-designed products are shortened by our CAD system (AutoCad® Desk-Top 2-D and Inventor 3-D), which uses the latest design and system dynamics software. This speeds parts selection and design documentation. Complicated designs can also be evaluated in advance of the prototype stage by the use of Finite Element Analysis (FEA) with ALGOR® software. These tools also enable our adherence to the highest engineering practices, resulting in superior designs.
Specifications:
Nonstandard High Pressure ST52 Welded Hydraulic Cylinder
barrel material St52(1.0580),Steel 20#,45#,27SiMn etc.
Standard or Nonstandard: OEM or Standard
Structure: Piston Cylinder
Power: Hydraulic
Body Material: St52(1.0580),Steel 20#,45#,27SiMn etc.
Place of Origin: FuJian,China(Mainland)
Packaging Details: According to customer requirements
Delivery Detail: 15~30days
production capacity: 3000 Pieces per Month
Product Introduction:
ROCA specialized in the research, development, production and sales of hydraulic cylinders of high and medium pressure serial hydraulic system as well as hydraulic hose and rigid pipe.
We are Capable of making various types of hydraulic cylinder according to customer's sample and drawing applicable to all kinds of engineering, water conservancy, metallurgy, mining, oil and other industries.
Main technical parameters
1.Double-Acting
2.Rod: Chrome Plated & Polished
3.Ram Material:St52(1.0580),Steel 20#,45#,27SiMn etc.
4.Bore: 40,50,63,65,70,75,80,85,90,100,110,125,140,160,180,220,230,250,280,320,360,400
5.Rob Dia: 20,25,30,40,50,63,70,80,85,90,100,110,130,165,190,180
6.Working pressure:<80Mpa
7.Stroke:<14000mm
8.Mounting type:clevis,ballend or as customer's requirements
9.Standard color is BLACK or According to your requirements
10.Piston rod Chrome or nickel plated,ground & polished piston rob
tube high tensile cole drawn tube,precision honed for extended seal life