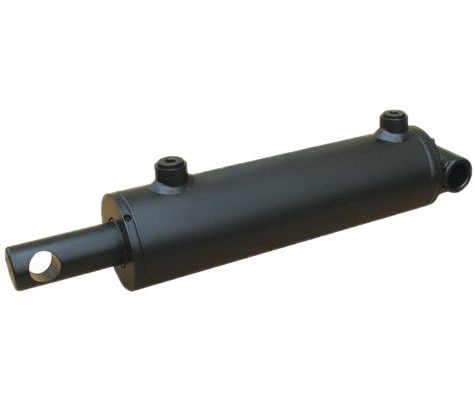 Welded Pineye Hydraulic Cylinder F/S
We specialized in designing and applying custom hydraulic cylinders in client applications. We've worked with hundreds of customers and have thousands of successful designs behind us.
Whatever your cylinder needs may be, our experienced technical staff offers a wealth of design and application expertise. Our personnel listen to your requirements, and combine your needs with our capabilities and resources to provide the optimum solution for your specific equipment and machinery. Lead times for custom-designed products are shortened by our CAD system (AutoCad® Desk-Top 2-D and Inventor 3-D), which uses the latest design and system dynamics software. This speeds parts selection and design documentation. Complicated designs can also be evaluated in advance of the prototype stage by the use of Finite Element Analysis (FEA) with ALGOR® software. These tools also enable our adherence to the highest engineering practices, resulting in superior designs.
Bore sizes from 1-1/2" to 4" (visit my store for other sizes) and strokes from 4" to 72". It has a 3,000 PSI Operating range.
BORE: 2" Bore - 3000 PSI
COLUMN LOAD: 9420 lbs.
STROKE:20"
PORT SIZE: SAE 8
ROD DIA: 1-1/4''
CROSS TUBE/ PIN HOLE I.D.: 3/4"
RETRACTED: 28"
SHIP WT.: 21
Product Details
Features:
• Intended Use: Double-acting applications
• Piston: Ductile iron
• Gland: Ductile iron
• Tube: Skived and roller burnished, precision finished steel for extended seal life
• Rod: Hard chrome plated
• Rod End Mount: Rod eye drilled
• Base End Mount: Cross tube C-1026 with grease zerk
• Tube Seal: Buna O-ring with Polytemp hytrel backup
• Rod Seal: Deep polypak with B lip design
• Rod Wiper: Urethane, snap-in
• Piston Seal: Hallite 755 provides prolonged wear resistance
• All Seals: Manufactured to US specifications
• Packaging: Individually poly bagged.